Custom Envelope Necklace – S925
Custom Envelope Necklace – S925
✓ Secure payment options
✓ 100% satisfaction guarantee
✓ Free shipping on orders above €35
This custom engraved envelope necklace is made from high-quality 925 silver. If you're looking for a unique gift for someone who loves jewelry, or you want to treat yourself to a lovely piece of jewelry, then This custom engraved envelope necklace is perfect for you! The message can be 6 characters long (engraved on the back) On the front it says Love you.
Features:
♥ Beautiful design
♥ Crafted from high-quality materials
♥ Perfect gift or treat
♥ Designed in France (Europe)
Specifications:
Material: 925 silver
Type: Necklace
Model: Envelope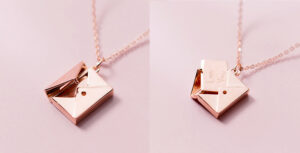 Vacelery craftsmanship:
All our jewelry gets designed in France, Europe and is crafted with high-quality materials, so you can enjoy them for a long time!